Teaching and Presentation Skills Series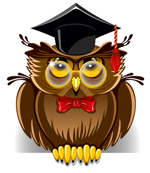 Click on the owl to navigate back to this page from any of the links below.
Which course should I take?

Teaching! Getting Started.
Take this class if you have never taught before or if you want to know what kinds of opportunities there are for teaching massage and massage related topics, and how to build the right experience for different levels of teaching, including public education. You will also learn a little about basic educational principles. No preparation is required to come to the class.
Teaching Skills for the Workshop Leader
Take this class is you want to teach continuing education for massage therapists and bodyworkers. You need to be well established in the profession and have a course you want to teach for which you will bring your notes and/or outline to class. You will be working on the class you bring with you as we discuss pertinent educational topics. This class includes marketing, policies, and planning, which are part of a CE Instructor's responsibilities, but normally not part of the job when teaching in a massage school. Testing and Classroom Management modules are minimal, as these aspects of education are not prominently applicable in CE. The NCBTMB Approved Provider application process is used as an example of a typical CE Provider approval process.
Teacher Training Intensive

This class is taught on location for massage school faculties. You will learn basic educational theory for vocational school teaching, including both hands-on and didactic classes (such as anatomy and physiology.) The sections on testing and classroom management are full modules; marketing and administrative policies are not covered.

Ethics for Massage School Teachers is also available for massage school faculties upon request.

Teacher Training Supplement
Take this one day class if you have already taken Teaching! Getting Started. or Teaching Skills for the Workshop Leader and would like to meet the additional training requirements for teaching in massage schools in North Carolina.