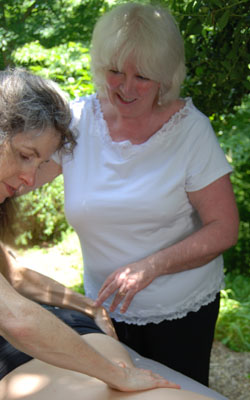 Freedom Bodywork®

Freedom from pain
Freedom from tension
Freedom from fatigue
Freedom from boredom
There is a way of working that is easier. That is fun and effective and deep. Bodywork that inspires you to develop your intuition, connecting ever more deeply with yourself and your client, bringing satisfaction and peace to your day.
This is a way of working that your clients will thank you for. They will be delighted with new moves you bring to the table, new attitudes, and style. They will smile broadly when they leave your office, walking on a cloud, deeply relaxed, renewed, refreshed, satisfied, at peace.
In the Freedom Bodywork course of study, you will learn a refined set of body/mind principles and a full bodywork protocol for applying those principles, thus enabling you to effect highly desirable lasting change in your client's body.
The material presented in this class is drawn from Nancy's Trager® practice of more than 25 years. In this experiential class, you will learn movement explorations and hands-on protocol for the legs, back, shoulders, abdomen, ribcage, and neck. You will explore rhythmic movement, spirit of inquiry, imagination, intention, freedom, creativity, listening touch, responding, suggesting, accepting, meditative states of mind, connection, nurturing, love, safety, playfulness, fun, pleasure, gravity, weightlessness, ease, memory and recall.
Technique (Level 1- Front of the Body): Full basic protocol to address front of the body including weighing, compression, tossing, shimmers, rocking, rhythmic movement, sculpting, and elongation.
Technique (Level 1- Back of the Body): Full basic protocol to address back of the body including weighing, compression, tossing, shimmers, rocking, rhythmic movement, sculpting, and elongation.
This class is for professional therapists or advanced massage school students. Wear or bring loose or stretchy clothing (no jeans). Trades are done with the person on the table wearing bra top (females) and shorts or full size underwear (no see through, no thongs). Men can wear running shorts or briefs (boxers not recommended.) Each student should bring a set of sheets, pillows and/or bolsters for your own comfort, and we will need one massage table for each 2 students. Massage Cream or lotion will not be used in this class.
Each course:
Friday through Sunday, 9:30am-6pm each day
21 CE Hours; Tuition: $420 (Discounted tuition may be offered for the second course.)
Level 1 Client Supine and Level 1 Client Prone may be taken in any order. If both classes are taken within a year, the second class is offered for only $375. Course may be repeated within 3 years for $150.
Certification Program
To become certified in this approach, continue through the series to reach a level of mastery. Click for more information.
Instructor: Nancy Toner Weinberger, bodyworker of 35 years, is an accomplished Trager® practitioner who trained directly with Dr. Milton Trager. She has a strong and varied background in massage, energy work, and mind-body health concepts. She has been teaching adult learners since 1980 and is known for her compassion, insight and competence. She has a down-to-earth, easygoing, practical teaching style. NCBTMB Approved Provider # 410519-00
Student Comments:
"Great experience. I will take more classes with Nancy. She was such an amazing teacher. Very patient with her students."
"Nancy was very knowledgeable. Loved her outlook and simple explanation!"
"Extremely motivating and inspiring. Her knowledge is fascinating, leaving me wanting more!"
"The imagery and internalization of the material was incredibly fulfilling. The instructor helped me really embody the principles and I can't imagine my bodywork without it now."
"Thank you so much for helping me learn to calm myself and be softer."
"This class will most definitely change the way I work in my practice."
"A truly wonderful class!! Nancy- the best instructor!"
Class Schedule: Freedom Bodywork®
Due to sabbatical, no classes are scheduled for 2018. Please email if you would like to be notified of classes when scheduled in future.